September 13, 2019
Posted by:

Trading

Category:

Market Overview
U.S. futures, European shares drop as dismal economic data re-awakens global recession fears

Pound drops as U.K. Parliament enters shutdown after rebuffing early election plans

Gold keeps sliding but macro drivers remain to the upside

WTI climbs on stronger outlook for further OPEC cuts
Key Events
European stocks and futures on the , and edged lower this morning ahead of key central bank meetings, as some grim economic data from China re-ignited the specter of a global recession.
in the Asian country dropped at the fastest rate in three years in August, while dismal figures from Japan's —which plunged 37% year-on-year—and Italy's —which slipped 0.7% in July—added to fears that national economies are taking a beating from global trade uncertainty.
Healthcare and utilities dragged the to a second-day selloff. Technically, the gauge might be topping out after nearing the April to July highs.
In the U.K., the partly gave up its gains after Prime Minister Boris Johnson's calls for an early election were once again rejected by parliament, just as its five-week suspension kicks in. Overall, the sterling's selloff may seem somewhat incongruous, as lawmakers rebuffed a no-deal Brexit after harshly opposing former leader Theresa May's efforts to strike a compromise agreement with EU counterparts.
In the earlier Asian session, regional stocks were mixed. South Korea's (+0.62%) outperformed while Japan's (+0.35%) came in second— investors may have bought the dip on the former: South Korean assets have been hit by a trade dispute with Japan that peaked over the summer; while Japanese shares reached a six-week high today, also thanks to the 's weakness, which boosts exports.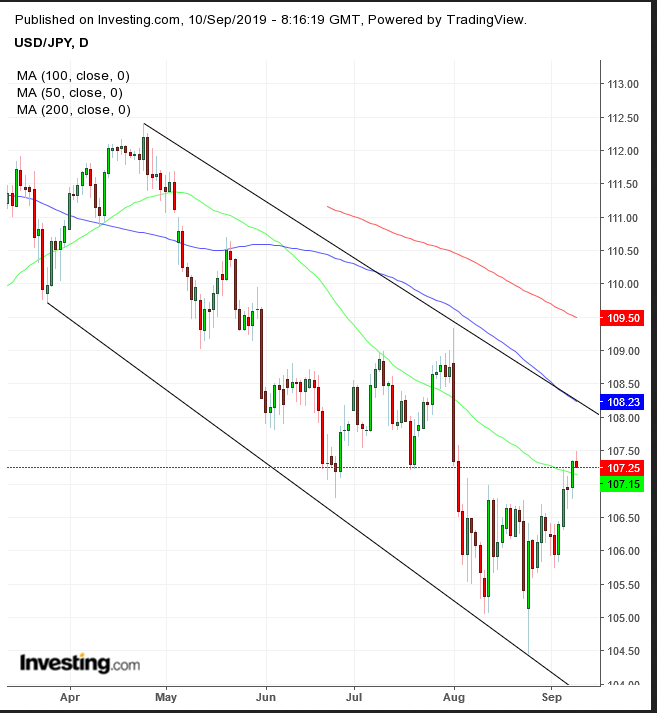 And the currency may get weaker yet, if the downtrend continues.
Global Financial Affairs
Yesterday, U.S. equities managed to stay afloat at neutral levels thanks to the 's 2% surge—on a higher outlook for further supply cuts by OPEC oil producers.
At the opposite side of the spectrum, (-0.91%) stocks led the losses as some Wall Street analysts, including Goldman Sachs's Asad Haider, sounded alarm bells on a "potential onslaught of drug pricing headlines in the coming weeks following Congress's August recess." Mega-cap tech names also retreated. Overall, stocks coveted for their high dividend yields, including real estate and utility names, retreated as the government bonds' rate topped 1.6%.
headed for its fourth day of declines, trading at around $1,490 an ounce. In the background, though, both China and Russia were reported to be ramping up their gold reserves. Are the two economic powers seeking to dump U.S. Treasurys?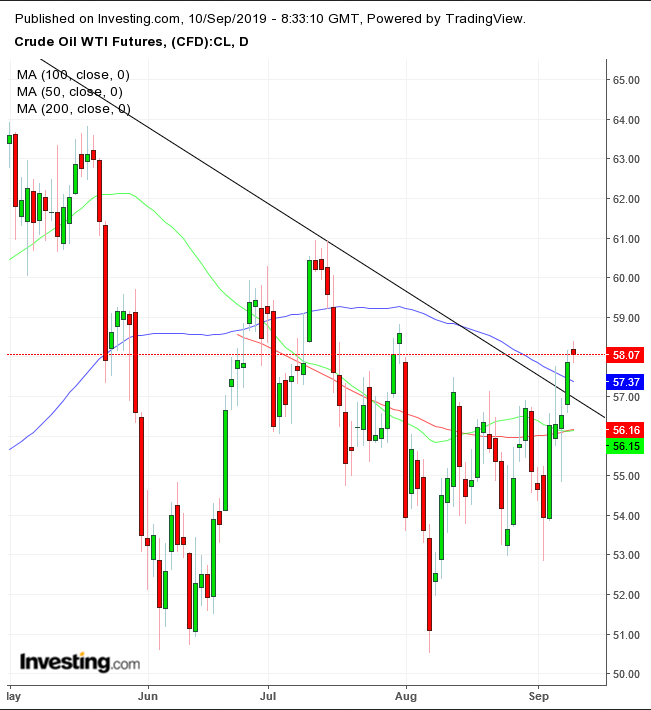 held gains—above the 100 DMA and the downtrend line since April 23—from the highest level in almost six weeks as Saudi Arabia's new energy minister signaled his commitment to production cuts ahead of an OPEC+ meeting later this week.
All eyes are now on Thursday's , as well as meetings by the and the next week, with investors pinning their hopes on central banks extending the golden age of monetary policy easing and thereby stretching out the longest economic expansion on record.
However, the fact U.S. futures and global markets are not exuberant, even amid positive comments by U.S. Treasury Secretary Steven Mnuchin on upcoming trade talks, raises a red flag about investors' overall confidence.
Up Ahead
OPEC's monthly oil , which includes demand forecasts and production estimates, is due on Wednesday.

ECB policymakers are widely expected to back an interest rates cut on Thursday and discuss all stimulus options, including QE. They will also publish for growth and inflation and President Mario Draghi will hold a .
Market Moves
Stocks
The U.K.'s dropped 0.4%.
The fell 0.1%.
The was unchanged.
Currencies
The Dollar Index opened 0.6% higher and extended the advance to 0.13%.
The climbed 0.1% to $1.1054.
The British pound increased 0.1%.
The Japanese yen declined 0.1%.
The ticked 0.1% higher.
Bonds
The yield on 10-year Treasurys fell one basis point to 1.64%.
Britain's yield climbed one basis point to 0.6%.
Germany's yield increased two basis points to -0.57%.
Commodities
West Texas Intermediate crude climbed 0.4% to $58.08 a barrel.
The advanced 0.2%.
Gold slid 0.5% to $1,491.73 an ounce.
Source link