July 25, 2017
Posted by:

Trading

Category:

Analysis
by Clement Thibault
Since the 2008 financial crisis, Microsoft (NASDAQ:) shares have been trending in just one direction – up. The technology giant has long been the go-to platform for personal computers. It currently has over 500 million monthly, active users just on its new Windows 10 operating system, with the expectation that number will reach 1 billion as early as next year. Estimates put total monthly Windows users—including those who continue working with earlier versions of Windows—at over 1 billion already.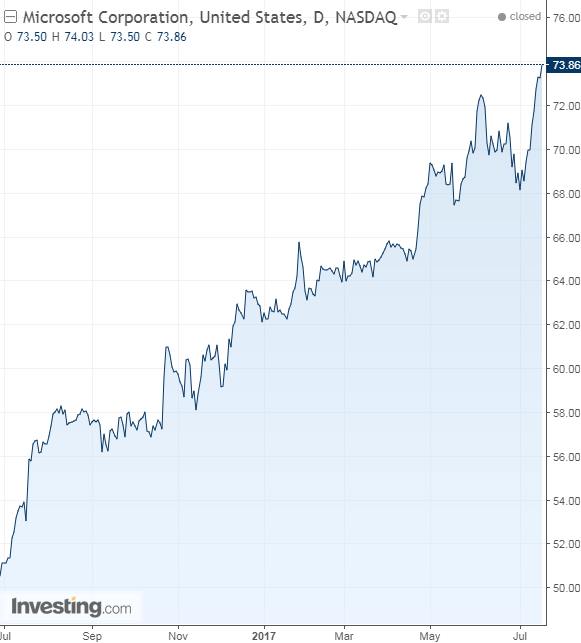 But business hasn't exactly been booming for Microsoft . Though share price keeps escalating, the business's numbers aren't necessarily following. During its best fiscal year to date, 2015, Microsoft managed to bring in $93.5 billion in revenue. Last year however, there was an almost 9% regression in revenue, to $85.3 billion.
Microsoft's fiscal year runs from June to June. Later today, Thursday July 20th, they'll report Q4 2017 earnings after the closing bell. Analysts are anticipating $0.71 EPS on $24.2 billion in revenue. While the company is expected have resumed its revenue growth, it will likely still fall short of reaching any new all-time highs.
Microsoft's $73.86 share price, as of yesterday's close, which is at an all-time high, doesn't seem to reflect any of this. So, is Microsoft's price justified? Here's a closer look at some of the challenges currently facing the company and its segments:
Personal Computing
Personal computing is what could be considered Microsoft's retail segment. This segment includes revenue from Windows licensing and related apps, hardware such as Windows phones, gaming revenue from its Xbox product, and search advertising from Bing and Internet Explorer. This is Microsoft's biggest segment, and it accounts for 45% of the company's overall revenue, or $29.9 billion out of the $66.6 made during the past nine months.
However, for several reasons, this segment has been on the decline. Microsoft's hardware (mainly its phones and tablets) were never able to gain mainstream popularity, possibly because Android and iPhone dominance made it hard for Windows to find a sustainable customer base.
The company's search engines are laggards, but they still have some market share: Bing at 7%, Internet Explorer considerably better at 20%. Its Windows revenue has been negatively affected by the decline of the PC as tablets and smartphones with larger screens chip away at the personal computing market, though most businesses still rely on Windows' office products. For the first nine months of the year, revenue from this segment declined from $33.9 billion in 2015 to $31.5 billion in 2016, and has declined yet further this year, to $29.9 billion.
Rather surprisingly, the operating income for this segment is actually growing. That's because Microsoft has abandoned its efforts to develop and market its phone, thereby reducing operating expenses. Over the past two years, advertising expenses shrank by $1.6 billion dollars while research and development costs were cut by $850 million dollars. As a result there's been a $2.5 billion boost to the segment's operating income, which jumped from $4 billion in 2015 to $6.5 billion in the first nine months of 2017. Consequently, segment operating margins have improved considerably, from 11.7% to 21.7%.
Microsoft eliminating ineffective expenses and non-profitable projects is a good short-term strategy, but the company's inability to come up with a new growth engine for its biggest segment will start to weigh more heavily once the cost cutting options are depleted and past-their-prime legacy products are the only things remaining.
Productivity and Business
Though personal computing is Microsoft's biggest segment by revenue, productivity and business is its most profitable division. The segment includes revenue from a variety of products and services such as Office 365, CRM Dynamics, Skype and LinkedIn (NYSE:). While responsible for just under a third of Microsoft's revenue, the segment accounts for about 53% of the company's operating income.
The acquisition of professional networking site LinkedIn, which cost Microsoft $26 billion and closed in late December 2016, is driving the revenue growth for this segment, and is responsible for half of its $2.5 billion revenue growth, which went from $19.5 billion to $22 billion. Subscriber growth to both Office 365 commercial and consumer versions is responsible for the remaining $1.2 billion.
Unfortunately, this doesn't yet translate to bottom line profits, as expenses connected to the LinkedIn acquisition are higher than the revenue it has added, at least for the time being. Overall, operating income for the segment is down 3% on the year.
Intelligent Cloud
Last, but hardly least—and the reason Microsoft shares are at an all-time high—its cloud platform. Though Microsoft continues to play second fiddle to Amazon (NASDAQ:) when it comes to cloud-related services, it keeps enhancing its Azure services. Without doubt, the development of cloud applications and related computing services is one of the biggest profitability drivers for technology companies, now and for years to come. Amazon, Microsoft, Alphabet (NASDAQ:), and IBM (NYSE:) are all racing to come up with the best platform. And the market is expanding so quickly, there's ample room for all.
Microsoft's Azure Stack, its effort at bringing Azure services to on-premises corporate data centers, is the marquee product of the company's cloud offering, and could differentiate Microsoft from competitors. It's the ideal solution for companies wishing to run their own, private cloud rather than use a public solution. Right now, from among their biggest competitors, Microsoft is the only company offering this option.
However, we're concerned that the efficacy, from a revenue standpoint, of Azure has been magnified by investors, at least over the short term. In its last earnings report at the end of April, Microsoft announced 100% growth in revenue for Azure, which meant it effectively doubled earnings from the prior year. That sounds great, but note that this Microsoft segment grew only 9% during the first six months of the year, from $18.3 billion to $20 billion. If we assume that 100% of the segment's growth came from Azure—which was not the case—it's at best a $3.4 billion venture, out of a total of $66 billion for the company overall.
Additionally, the segment's operating income has declined by 7% over the past nine months, signaling that Microsoft is hardly close to turning its cloud services into the cash cow Amazon's cloud offering has become.
Conclusion
Fundamentally, even before we delve into valuation metrics, it's difficult to see how the current all-time high share price is justified.
Of Microsoft's three segments, two are seeing operating income decline, while the third is seeing revenues decline with growth bolstered by cost cutting. Its cloud platform, which is supposed to be the new growth engine, isn't generating the amount of top- or bottom-line growth expected, and its importance to the company today is overstated.
Microsoft's P/E ratio is 32, 10% over its three year median of 29. Its Price-to-Free Cash Flow is 20.20, almost 20% above 17, its historical value of 17.
We can't rationalize these numbers. Though we like Microsoft as a company, we don't recommend it at the current price.
We'd be willing to become buy-and-hold investors because of the strength of many of their legacy products and the fact that they are working on innovating, though those efforts haven't yielded significant revenue yet. Thus we're not buyers at this price.
We can't support a P/E ratio of above 30, let alone 32. Given current market conditions, we estimate a fair value at $65 per share for a multiple of 28.5. Even then, the margin of safety is small. Regardless of today's earnings results, we believe a pullback is inevitable, and should provide a more suitable entry point.
Source link