July 25, 2017
Posted by:

Trading

Category:

Analysis
Key Points:
Despite recent bullishness, gold should reverse rather shortly.
The ongoing ABC wave is likely to enter its final stages.
Losses should not extend past the 1180.05 handle
prices have been on the mend in recent weeks but, in doing so, they could be preparing the metal for another slide to the downside in the near-term. Indeed, the rally back to the 100 day moving average could simply be a prelude to a major tumble – the final push lower in the broader ABC pattern that we have been tracking for some time.
As shown below, despite reversing somewhat later than originally anticipated, gold has been fairly faithful to the forecasted corrective wave and is now reaching the final reversal point in the structure. As a result, selling pressure should now be on the rise and the bears could soon be back in the driving seat for the metal. However, we don't have to rely solely on the chart pattern to reach this conclusion as numerous other technical signals also indicate that downside risks are increasing.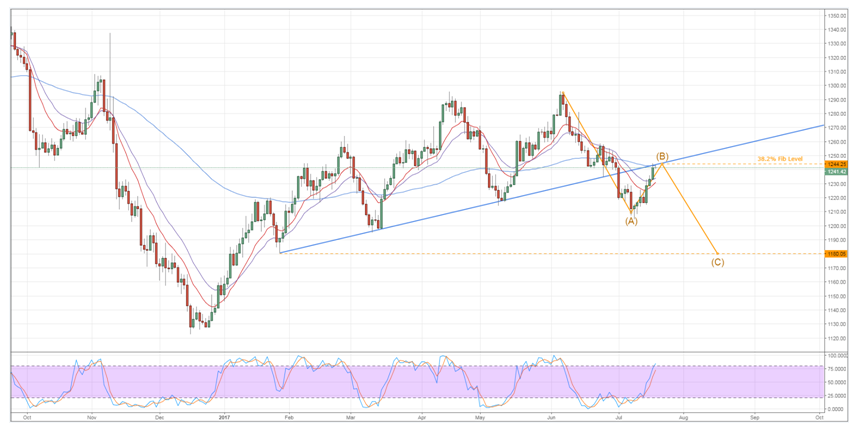 For one thing, the 12, 20, and 100 day moving averages are almost certainly going to be having a bearish influence on the yellow metal. As shown, even after a notable uptick in buying pressure over the prior weeks, all three averages remain in the most bearish configuration possible. What's more, the 100 day measure is perfectly placed to encourage a reversal as it rests just above price action and, coincidentally, at the 38.2% Fibonacci retracement.
Further adding to our bearish bias is gold's proximity to the old trendline which could now prove to be a source of resistance, rather than support. However, the metal could also stray above this line briefly as the stochastic and RSI readings remain neutral which leaves the upside somewhat exposed to a brief surge in buying pressure – potentially from a fundamental or political upset.
Overall, keep a close eye on gold prices moving forward as the metal could still have some surprises in store. Nevertheless, for the reasons detailed above, the technical outlook is rather grim which should predispose gold prices to a reversal or at least mitigate the effects of any bullish fundamental results posted in the immediate future.
In the event that we do see a reversal and subsequent downtrend, losses should be capped at around the 1180.05 handle. At this point, the bulls should stage a bit of a comeback and might even push the metal back to around the 1200.00 mark.
Source link