January 20, 2020
Posted by:

Trading

Category:

Analysis
With the U.S.-China trade war out of the way, after the signing last week of the Phase 1 portion of the deal, the coming week will be all about earnings. Several mega cap U.S. technology and consumer companies are scheduled to release their fourth quarter numbers.
The closed on Friday at a new record. The benchmark index is now up about 3% since the start of the year. At a time when U.S. markets are hitting new highs almost every week, corporate earnings are a crucial indicator, providing justification for the ongoing rally, but also furnishing future guidance from corporate America, with which investors can determine whether their expectations are in line with company prospects going forward.
In a week packed with a variety of major announcements, we're focusing on the following three stocks:
1. Netflix
Global streaming entertainment giant, Netflix (NASDAQ:) will report Q4 earnings on Tuesday, Jan. 21, after the market close. Analysts, on average, are expecting $0.52 profit per share on sales of $5.45 billion.
The real test for Netflix, however, is to show that its explosive growth in adding more subscribers is continuing. This is especially critical at a time when a number of deep-pocketed rivals—including Apple (NASDAQ:) and Disney (NYSE:)—have launched their own streaming services, challenging Netflix's near monopoly in the segment.
Amid this uncertainty, investors will zero in on subscriber additions in both the company's domestic and global markets. Wall Street is forecasting gains of 1.83 million domestically and 7.38 million internationally for Q4, according to data compiled by Bloomberg.
NFLX Weekly TTM
Shares of Netflix have underperformed other big tech stocks during the past one year on concerns that the company will find it when many other competitors are entering this arena.
Nevertheless, lately, shares have been creeping higher. The stock is now up about 50% from its December 2018 low, suggesting that investors are counting on another blowout quarter. Netflix closed at $339.67 on Friday.
2. Procter & Gamble
Global consumer staples giant Procter & Gamble (NYSE:) will report Q2 2020 earnings on Thursday, Jan. 23, before the market opens. Analysts, on average expect $1.37 a share profit on sales of $18.41 billion.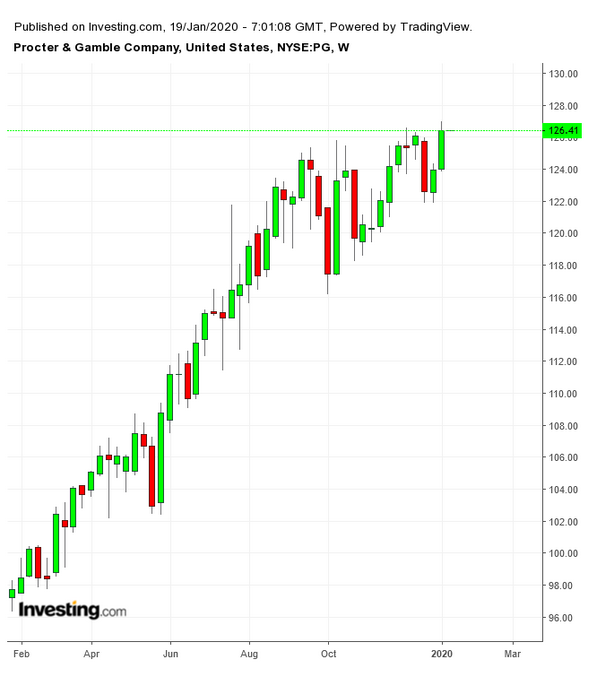 PG Weekly TTM
Investors sent P&G stock soaring to a record high on Friday, on expectations that the company's growth momentum is still strong even after it has already seen of blistering growth. Shares closed at $126.41 on Friday, up about 40% in the past 12 months.
During the past two years, the maker of Dawn dish soap, Bounty paper towels and Crest toothpaste, among a variety of other household brands has consistently been growing its sales, helped by its innovation, marketing and a simplified organizational structure.
In October, P&G reported organic sales—which exclude things like acquisitions and currency fluctuations—rose 7% in its fiscal first quarter. This shows the company is keeping up the momentum after it matched the previous quarter's fastest organic sales growth in more than a decade.
3. Intel
Chipmaker Intel (NASDAQ:), will also come under sharp scrutiny when it reports Q4 earnings on Thursday, Jan. 23, after the close. The tech giant is expected to report $1.25 a share profit on revenue of $19.2 billion, according to analyst consensus.
In its , Intel was able to surpass expectations on both sales and profit as well as provide an upbeat Q4 forecast, helping ease investor concerns about production bottlenecks along with a broader slowdown in demand.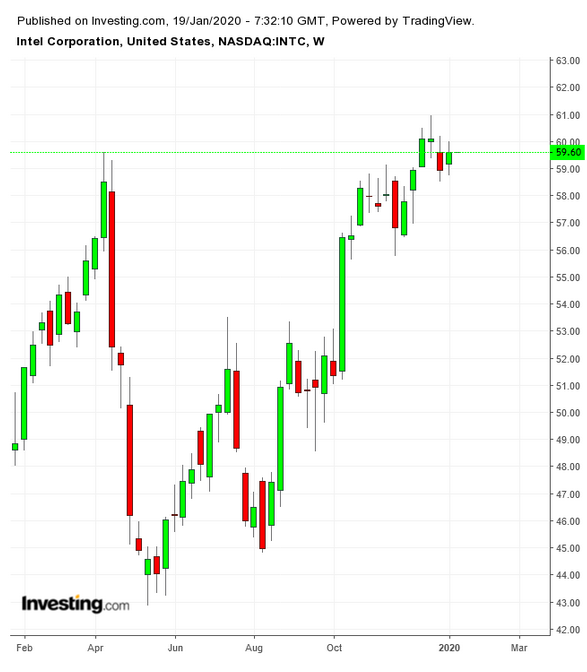 INTC Weekly TTM
Intel, the largest chip maker in the U.S. by revenue, is benefiting from strong demand for chips used in data centers. Investors will be eager to see whether the Santa Clara, CA-based semiconductor behemoth was able to sustain that demand surge in Q4. They'll be equally keen to know whether the company is projecting a positive outlook for 2020.
Intel shares, which closed at $59.60 on Friday, have been rebounding for the past three months on expectations that last year's slowdown in the semiconductor industry was short-term. This week's earnings may further support that rally.
Source link